Mack David Buildings is your marina, outdoor rack, and boat dry storage specialist from concept to completion! It is also the home of the innovative quick-release bolt for easily adjusting bunker boards – tool free! Contact David Coyle today for high quality service, design, and management of your next project.
Adjusting Bunker Boards Made Simple!
Order the last ground stands you'll ever need! This patent-pending for marina use quick-release bolt and adjustable ground stand system means:

NO tools for bunker board adjustments
Ground stands adjusts 6 5/8″ to 1′-3 5/8″
Robust – up to 45,000 lbs max limit
Lasts a lifetime
The quick-release bolts and angled clips mean that marina operators can work more efficiently and have fewer obstacles that sometimes lead to equipment or boat damage. Tool free adjustments can be made for boats and jet skis. This new product is also a game-changer for marina dry storage as today's boats and hull shapes vary considerably compared to just a few decades ago. This innovative system is robust and engineered for the best fit for the current needs of the industry.
MDB's patent-pending, tool-free, quick-release bolt system is already in place at several marinas including Safe Harbor, Marine Max, and Southern Marinas.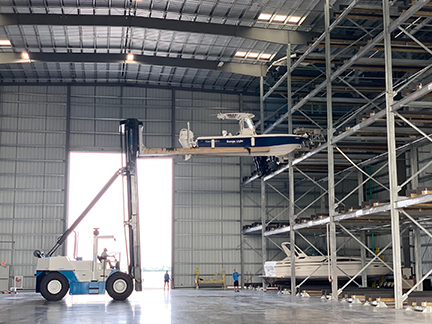 HELPFUL VIDEOS
Assembling Bunker Board Clips and Quick-Release Bolts
MDB Ground Stand Assembly Instructions
Bunker Board Installation on Adjustable Ground Stands
Adjusting Bunker Boards – No Tools Needed!
Easily adjustable for Boat or Jet Skis – Versatile Usage
Important Reminders
To maintain the 45K proper load on ground stands
• Ground stands must be no more than 15 feet apart
• Bunker boards must be 4″ x 12″, No. 1, rough cut, pressure treated boards
NOTE: Mack David Buildings is not responsible for any damage or failure that may occur due to not using the recommended boards and spacing or any other deviation from proper usage or installation.
Please Read Instructions
The 4 stainless bolts per assembly must not be overtightened. MDB is not responsible for incorrect installation.
Looking for an outdoor rack system?
Center-bolted, angled X bracing, and minimizing the deflection of beams are major considerations when looking for robust, long lasting, quality racks.
Happy to assist – these videos are of the new Safe Harbor Marina City Boatyard Bradenton Boat Club racks.
Behold the latest PEMB marina drystack storage building at Harbour Isle (now called One Particular Harbour Margaritaville) near Anna Maria Island, on the gulf coast of Florida. From a simple concept, I designed the building for both aesthetics and function. I worked with the manufacturer every step of the way, and managed the erection, concrete, plumbing, electrical and sprinkler systems. This included implementing customized changes in the foundation and fire sprinkler design for optimum efficiency, resulting in substantial savings for the client.
Read my recent interview in Marina World UK Magazine for the latest in Dry Stack Storage and how the industry is changing.
Pier 77, formerly Harbour Isle, in Anna Maria, Florida. See the article in the May 2020 issue of Metal Construction News
Are you ready to experience Mack David quality and service?
Thank you for visiting. If you are looking for a marina dry storage building specialist that puts customer satisfaction first and returns your call promptly, you have come to the right place. After you see the work, functionality and beauty of the buildings shown here, please contact me to begin a collaborative journey through the intricacies of pricing, designing, and erecting a building that you will be proud of.
I will help you save time and stress while getting the best price, best service, and enjoy the confidence of knowing that more than 25 years of experience is going to work for you — not a builder or corporate entity, just you. I offer personalized, hands-on service and solutions for getting your project from concept to completion. Contact me today: 704-361-7083 or [email protected].
Image